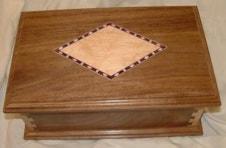 Thank you to Ricky for sending us these images of your two recent projects using Aqua Coat products.

We are always looking for images of your projects using Aqua Coat. Please send them to sales@aquacoat.com so we can proudly display them for you.
Keepsake Box Finishing and Finishing Products
Aqua Coat is a leading manufacturer of finishes and coatings for keepsake boxes and more. If you'd like to learn more about our water based grain and pore fillers, our environmentally friendly wood stains, or our top coats, and sanding sealers, contact us today.