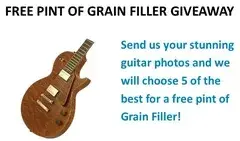 Aqua Coat is in need of some stunning guitar images for our NEW WEBSITE!
Going through recent guitar forums we have seen a lot of luthiers successful and happy using Aqua Coat products. We are looking for images of guitars using our products for our NEW, soon to be released, website and social media posts.
Please send in your guitar photos that you used Aqua Coat products on and tell us how it helped you finish your guitar, and we will choose 5 of the best and send you a FREE pint.
Horizontal images required.
Send them to sales@aquacoat.com