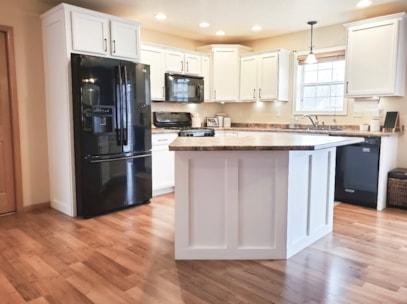 Aqua Coat is featured in the article "The Top 10 Best Wood Fillers of 2023," from an article written by The Spruce. The Spruce updated their list of the top wood fillers and Aqua Coat was featured among the best! The Spruce independently researches, tests, reviews and recommends only the best wood fillers and other home and lifestyle products. Their process includes rigorous testing standards and processes in their three labs across the country and with a network of home testers so they know they are recommending only the best. Here is why they featured Aqua Coat as one of the top 10 best wood fillers
"If your wooden kitchen or bathroom cabinets have seen better days, and you want to cover up the wood with paint, here's the product you need to create a smooth, perfect surface that hides the wood grain beneath. Note that this isn't wood filler for treating cracks, holes, or other obvious damage; it's a grain sealer. That means you'll first need to fill any large damage with regular wood filler before applying Aqua Coat White Cabinet Grain Filler.
The product is a water-based, low-VOC, and low-odor filler, so you can work in the kitchen comfortably. It dries within an hour or so, after which you can apply another coat if needed, or go ahead to lightly sand the cabinets, apply primer, and then paint as desired. The Aqua Coat product itself is white, which makes it easier to see how effectively you're covering the wood grain, but it can be painted any color you choose once dry. It cleans up with soap and water once you're done.
What We Like
Covers wood grain very smoothly
Quick dry time
What We Don't Like
Covers wood grain, does not fill large blemishes or cracks"
Aqua Coat wants to thank The Spruce for writing this article about Aqua Coat White Cabinet Grain Filler.
Grain and Pore Filling
Aqua Coat is a leading manufacturer of wood grain fillers. If you'd like to learn more about our water based grain and pore fillers, our environmentally friendly wood stains, or our top coats, and sanding sealers, contact us today.