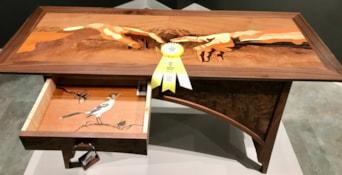 Take a look at this beautiful desk top. With the help of Aqua Coat, Wayne won! This desk won Best Texas Furniture at the Texas Furniture Makers Show. Wayne designed and built this desk and named it "Brazos De Dios" (The Arms of God). Congratulations Wayne and thank you for sharing this with us.
Share your happy and satisfying experience with using Aqua Coat products. You can send us pictures at sales@aquacoat.com
Grain and Pore Filling
Aqua Coat is a leading manufacturer of wood grain fillers. If you'd like to learn more about our water based grain and pore fillers, our environmentally friendly wood stains, or our top coats, and sanding sealers, contact us today.