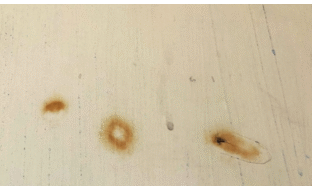 Aqua Coat found this interesting article from Anker Stuy Coatings. They talk about how to prevent tannin bleed.
What is tannin bleed?
Tannic acid, or tannins, are natural constituents (often referred to as extractives) present in certain timbers that will bleed through coatings if not properly isolated. The direction and extent of tannin bleed is dependent on grain orientation and is linked to the cell structure of the timber. The timber cell structure can be likened to millions of plastic straws bundled tightly together - so if a lot of water travels down the timber section it can actually 'flush' out the tannins in the wood causing the surrounding surfaces to become stained.
Probably, the first thing to understand is that moisture plays a big part in the movement of tannins. When the timber is dry tannin bleed will very rarely take place. The application of water-based coatings provides sufficient moisture for the soluble tannins to become mobile and leech out of the wood. Although tannin discolouration is more likely in areas exposed to the worst weather, timber in persistently damp but sheltered locations will also be prone to tannin bleed. Without the right preventative measures, tannin bleed can always be a risk.
Secondly, because of the cell structure of timber, sawn-ends and end grains are the most vulnerable to tannin bleed. End grains are prone to sucking up water as the timber is damp and then release the water as it dries. Without protection, end-grains will leak tannins and discolour finished windows and doors.
Finally, and while tannin bleed can occur in any wood species, this is a more common phenomenon in tannin rich hardwoods such as Idigbo and Oak. It can however occur in less tannin rich timbers such as Sapele and Eucalyptus Grandis.
While tannin bleed in hardwoods such as Idigbo and Oak will be present are present in any given colour of finish the bleed will be more obvious on white or lighter finishes. While this all seems very problematic, the solution is actually very simple.
How to prevent tannins from ruining finished coatings?
Firstly, ensure that the timber is dried sufficiently prior to use. We recommend a moisture content of between 14% - 16%. Not only will this mean the wood is easier to work with but it will minimize the amount of moisture that is released by the timber and thus minimize the risk that tannins will leak out. Thought should also be given to the amount of water and damp conditions that will affect the finished product and provide sufficient protection as required.
Secondly, end-grains and cut-ends should be sufficiently protected with and end grain sealer. This will give additional protection to parts of the product that are susceptible to bleeding tannins.
Finally, we recommend using a stain blocking primer.
By following these simple steps you can protect yourself against wasting money on costly repair or replacement jobs and have confidence in a long-lasting finished product of superior quality.