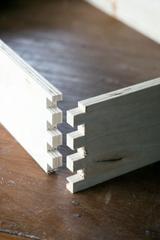 We've featured some spectacular customer projects on this blog, from building furniture and jewelry boxes to refinishing vintage and antique pieces that would make most people want to throw up their hands and walk away.

Everyone has to start somewhere, though, and if you're looking to learn new techniques or to improve your current ones, you can learn them by getting out there in your workshop and building something! But what to make? As you might expect, you can look online for inspiration and find free project plans with different levels of expertise.

Trusted sites to look at include the websites of woodworking magazines. Here's three to begin:

Popular Woodworking Magazine
This site includes a range of projects from birdhouses to Shaker furniture. Also a good site for information such as a discussion on different types of wood and how to stain wood. Advanced guides talk about wood joinery and how to build a jig.
Here you'll find plans to build out your workshop with a workbench or decorate your garden with a trellis. Then you can move to more advanced projects like a built-in bookcase and cabinet.
This site has free plans for furniture, shelving, and a tool cabinet, as well as other plans for sale and video tutorials.
If you have a favorite site for free woodworking patterns let me know and I'll add it to a future post.