Here are images from our second winner of our Grain Filler Giveaway for musical instruments. Thank you Michael for the images. Michael sanded to 320 and then applied a wash coat of dewaxed shellac. He then applied Aqua Coat Clear Grain Filler, let it dry and then sanded it down. He repeated the process until the pores were filled. Then he applied vinyl sealer and nitrocellulose lacquer.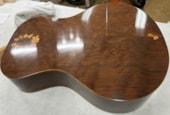 "I like the way wood looks with a clear grain filler, it gives depth to the finish. For a long time, I would just spray lacquer on my instruments then sand down until I had the pores filled, a time consuming process. Opaque grain fillers would leave stain where I did not want the color to be and are mostly solvent based making the process more toxic than I like. When I found Aqua Coat, I was elated to have a product that was water based and clear. I use Aqua Coat on all my guitars and the results speak for themselves."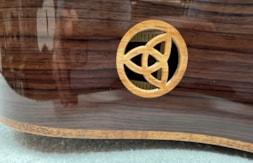 Share your happy and satifying experience with using Aqua Coat products. You can send us pictures to sales@aquacoat.com
Grain and Pore Filling
Aqua Coat is a leading manufacturer of wood grain fillers. If you'd like to learn more about our water based grain and pore fillers, our environmentally friendly wood stains, or our top coats, and sanding sealers, contact us today.