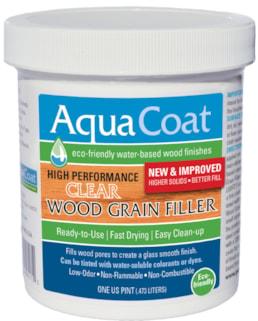 Aqua Coat's water based NEW and IMPROVED High Performance Clear Wood Grain Filler will perform better than our previous clear grain filler. It does the same as our current clear grain filler but better! It has higher solids, better fill, and will perform better in less coats. This grain filler helps achieve a clear, glass smooth finish on hard to fill woods such as oak, ash, walnut mahogany, cherry, birch and others. This grain filler penetrates and seals the pores minimizing the absorption of your topcoats, achieving a glass smooth clear finish in less coats. It is easy to apply, dries fast, sands easily, low VOC, and is water cleanup.
It can be tinted with water soluble trans tints and dyes to accent the grains and pores to help attain your desired look.
Aqua Coat High Performance Clear Grain Filler is popular among wooden instrument manufacturers such as guitar, ukulele and piano. It also works great for cabinets, tabletops, desktops, keepsake boxes, trim, frames, antique restoration and more.
Grain and Pore Filling
Aqua Coat is a leading manufacturer of wood grain fillers. If you'd like to learn more about our water based grain and pore fillers, our environmentally friendly wood stains, or our top coats, and sanding sealers, contact us today.